Instagram has become a great place for brands and individual users to display their creativity and photography skills (whether amateur or professional) in a unique and artistic way. Not only that, but with everything from food to fashion, to nature and tech, Instagram provides a free-roaming playground for people to visually display their lifestyle and brand culture with a unique blend of images and video.
There's no doubt about it, the five accounts we mention below are killin' it when it comes to creative strategy and follower engagement. Let's take a look at what they're doing and dive into some overall best-practices for applying their strategies to your own brand's Instagram account.
Humans of New York (3.5 million followers)
This unique account profiles individual people living in New York and shares interesting tidbits about their lives that evoke emotions of shock, intrigue, humor, sadness, sympathy, hope, and happiness. This simplified look into the lives of complete strangers proves that there's more to people than meets the eye, and that underneath our exterior, we're all just human. I love this account because it really brings light to the fact that most people may not be who you expect them to be at first glance, and that there is continuity and connection beyond what we may initially think when it comes to our fears, joys, and life experiences.
Brandon Stanton initially began Humans of New York in the summer of 2010, with the goal of photographing 10,000 New Yorkers and plotting their photos on a map. However, his vision has since evolved into a collection of quotes and short stories paired with photographs that allow you to get a unique glimpse into the lives of people residing in the city. Stanton's current location? Pakistan. Stanton was planning on visiting Pakistan last summer as part of a world tour with the UN to spread global stories from all corners of the Earth and increase awareness of challenges faced by communities outside of the US. Unfortunately, his visa wasn't processed on time, so he's made it his first stop this summer. Check out this account for a unique look into the lives of the people living in this country.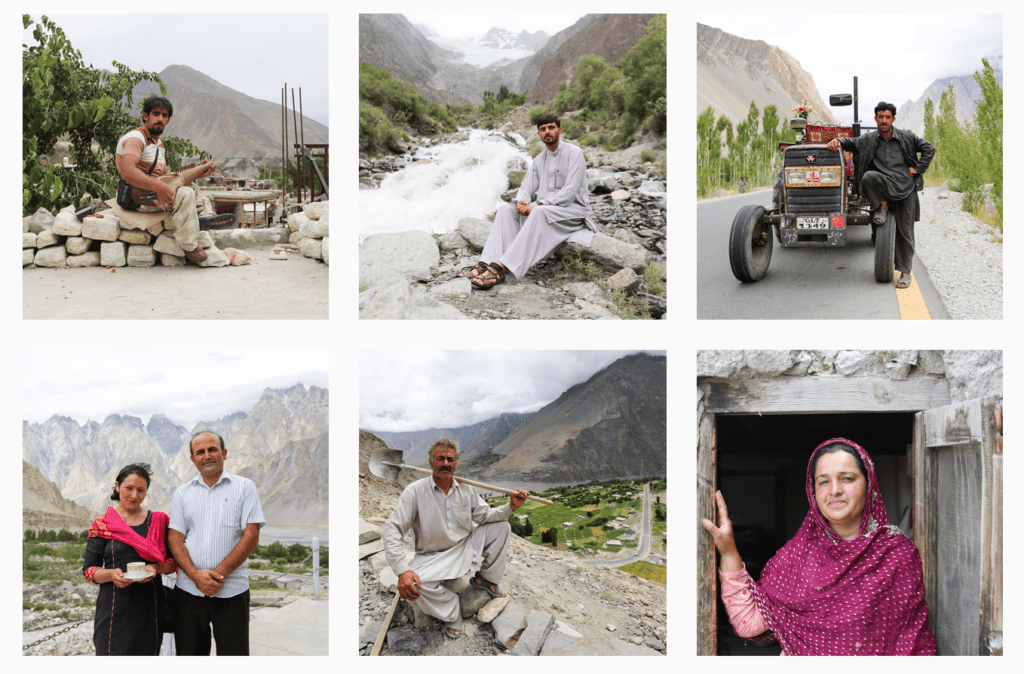 Subway Book Review (35.5 thousand followers)
If you love books as much as I do, check out Subway Book Review, an account that, as the name suggests, features book reviews from strangers on the subway. If you need some book recommendations, like hearing people's thoughts regarding different books, or are simply interested in finding your next read, this account does a great job of profiling individuals and their personal applications of the things they're reading. The account's focus on real people and it's centeredness around a common theme are both things that drew me into following its feed.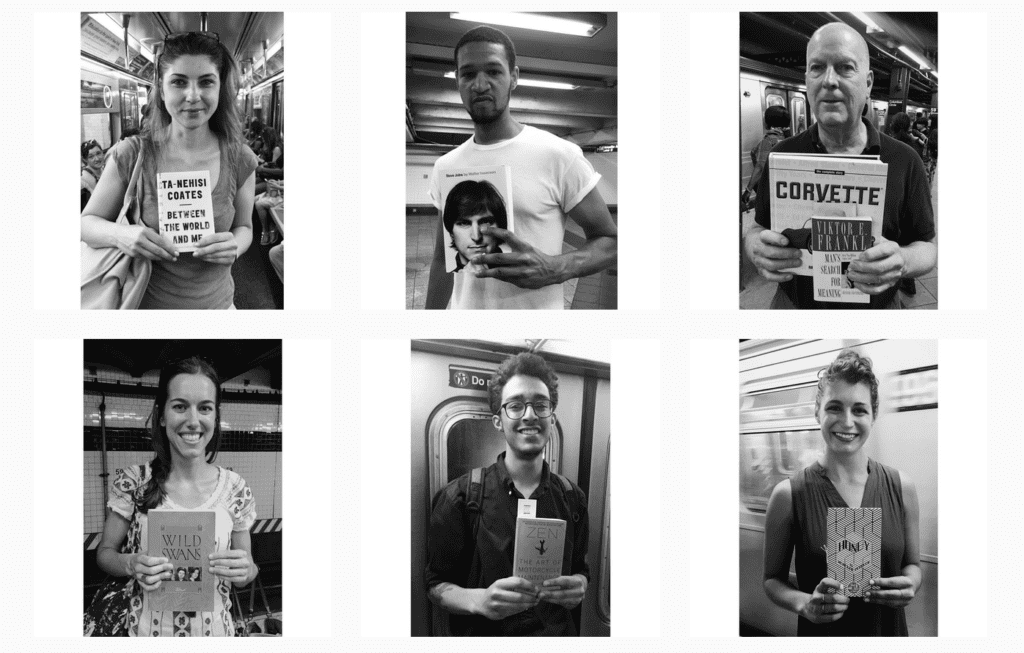 Starbucks (5.3 million followers)
Starbucks fills its feed with creative coffee images with text overlays and designs, 15-sec video snippets (the most recent one is a slo-mo rendition of cream mixing into an iced coffee) as well as crowdsourced content from its worldwide club of caffeine-loving fans. The theme of the account's feed changes to match the seasons (totally feeling the summer vibes right now). For some reason, I can't help scrolling through without wanting an iced vanilla latte–which may just be my coffee addiction talking–but either way, I'd say their strategy is pretty effective 😉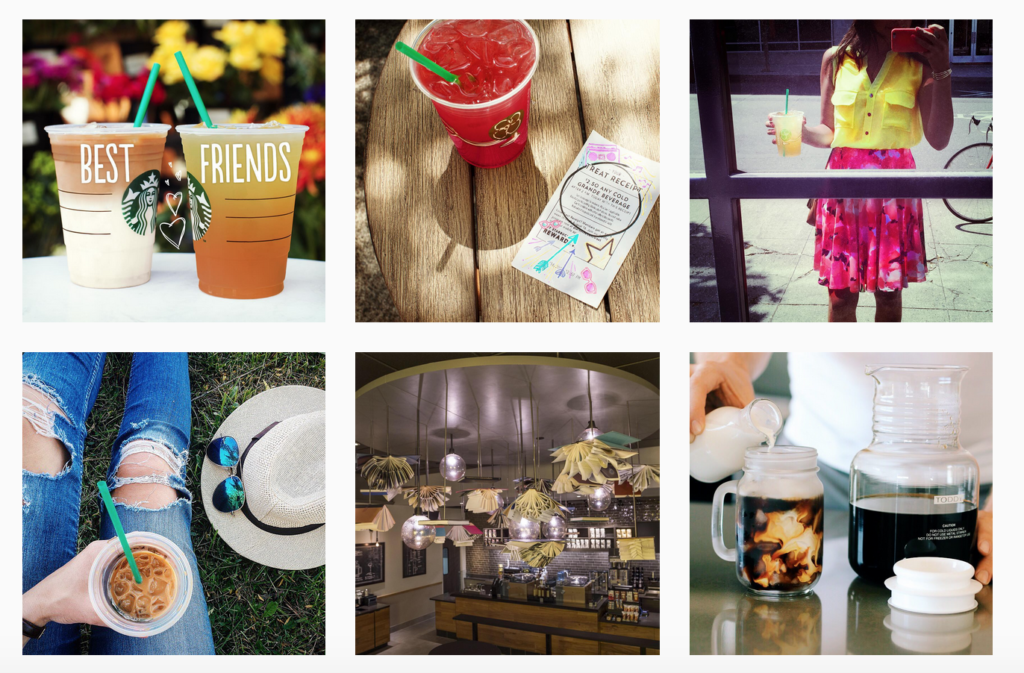 Murad Osmann (3.2 million followers)
Photographer Murad Osmann is best known for his creative travel photography featuring him holding the hand of his wife (whose face rarely appears in his photos) as she stands before a variety of majestic backdrops straight out of any travel lovers list of must-see places. The photos are both intriguing and dynamic, while sticking to a common theme that threads them all together.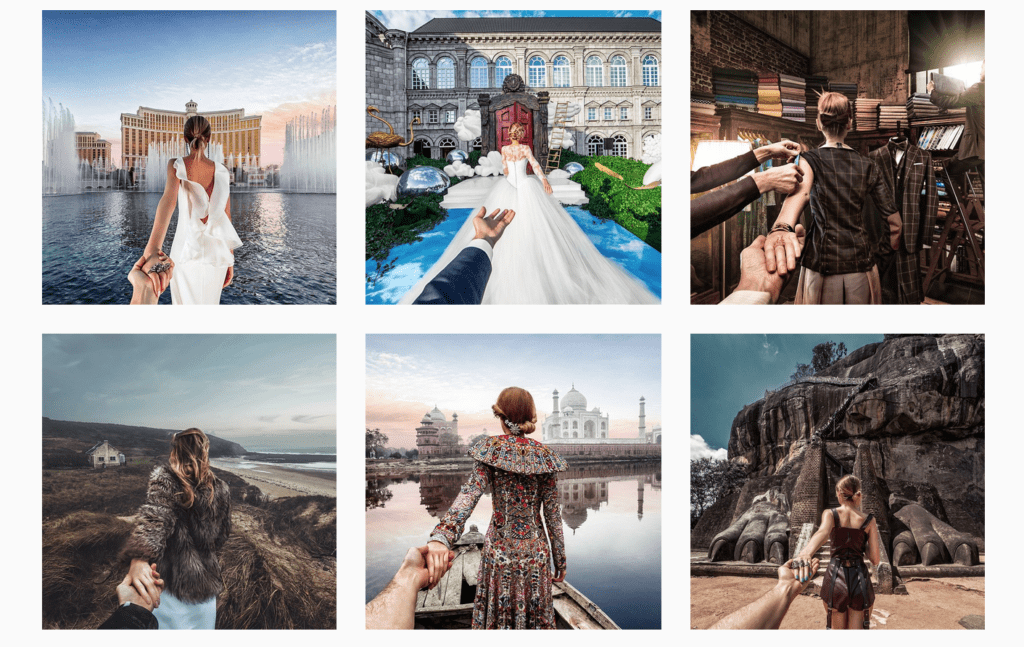 GoPro (6 million followers)
"We dream. We have passionate ideas about what's possible in this world. Our passions lead us to create experiences and realities that expand our world and inspire those around us. GoPro helps people capture and share their lives' most meaningful experiences with others—to celebrate them together."
– GoPro CEO and Founder Nicholas Woodman
GoPro's Instagram account is filled with everything from surfers to puppies (to puppies surfing), all while staying true to the brand's goal to inspire and create meaningful experiences. With "photos of the day" and featured photographers, GoPro draws on content from its massive audience to fill their feed with a true representation of their own mission: capturing the adventure that is life and sharing it with others to inspire and celebrate all the things that truly make life meaningful.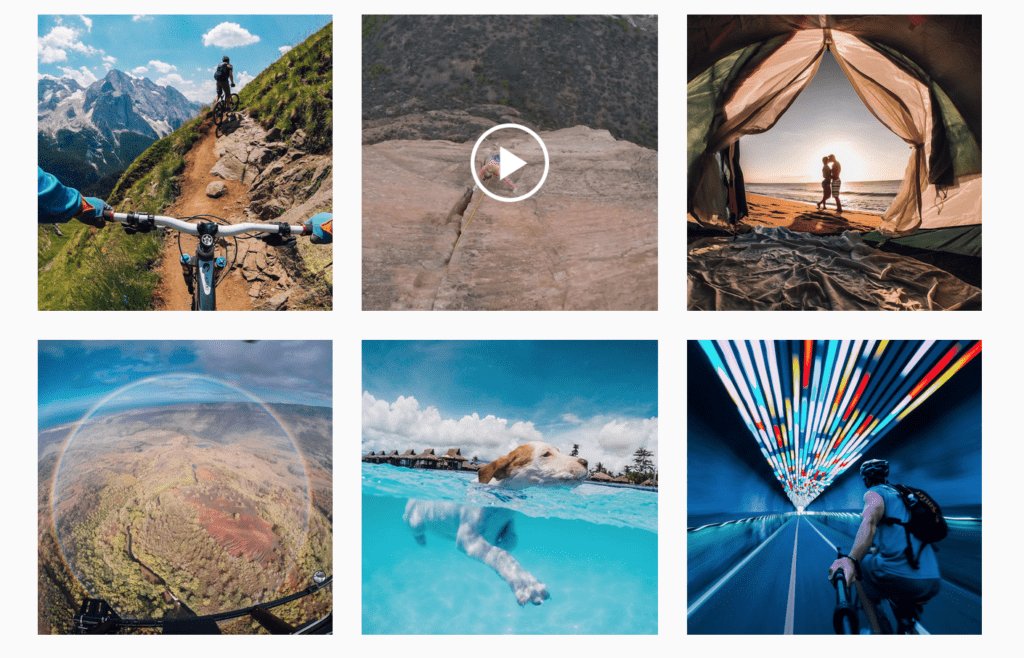 How can you apply the creative strategies/ideas of these Instagram accounts to your own brand?
Post things people can relate to. Real stories, images, behind-the-scenes photos, and day-in-the-life type posts help your audience connect to you and get to know your brand on a more intimate level.
Stick to a common theme. Sticking to a common theme will not only make your feed look aesthetically pleasing, but give your audience a general baseline of what they can expect to see from you.
Address a need. Use your feed to appeal to people who are interested in specific topics or images, whether they're practical or inspirational. This will also help you draw in your target audience.
Crowdsource your content. Use content from your followers across your social feeds to engage with them and make them feel like they're a part of your brand. This is particularly effective for lifestyle-type brands.
Don't forget to check out the Garlic Media Group Instagram account here. Follow the team as we spice up each week with a variety of clients, events, videos, pics and projects. Will you join us on the adventure? #itsgoodforyou