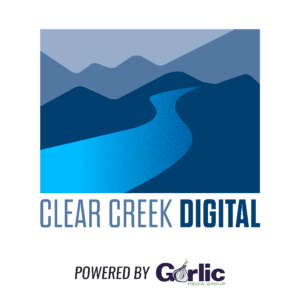 Garlic Media Group and Clear Creek Digital Team Together
We are excited to announce a partnership unique to the the global mining industry! Clear Creek Digital, founded by Trevor Hall, has announced a partnership with Garlic Media Group.
Clear Creek Digital will continue to operate under the same brand and can now grow without limits to service the Mining Industry in a way which improves social licensing, strengthens community engagement and enhances public support for the industry.

Clear Creek Digital was formed to provide the highest quality digital media and communication strategies for mining organizations and related businesses. CCD's clients include mining companies, mineral exploration companies and mine service providers.
The partnership allows Clear Creek Digital to strengthen its robust services which include content writing, web design, social media management and video production. Garlic's Emmy winning Video Production team, Senate and House approved web team and the experience from working with recognizable national brands will launch Clear Creek Digital's offerings and growth!
Conversations over the last several years have led to this brand collaboration. Both companies are aligned in their core values and views of the mining industry needs. Integrating the Mining Industry experience with Garlic's robust service offerings is a win for the industries, the companies and the overall public knowledge of mining and mineral exploration.
"For years, Trevor has expressed to me the lack of proper communication and communication tools the mining industry is using as a whole. Mining is here to stay and our global needs are not going to slow down any time soon. We live in exciting times and we need to have transparent and clear communication to collaborate wisely." Will Feldman Founder Garlic Media Group


"Clear Creek Digital is fortunate enough to partner with mining clients from around the world, helping them spread effective messaging about their operations and teams," included Trevor Hall of Clear Creek Digital. "The most important thing we do is work with mining organizations to share the experiences this industry offers. We build trust through sharing these experiences, educating the public through powerful content, and improving company value with recognizable messaging. Partnering with Garlic Media Group provides an incredible team and creative talent to deliver for the industry and our clients."